Free Webisode with Lipgloss & Aftershave
June 12, 2023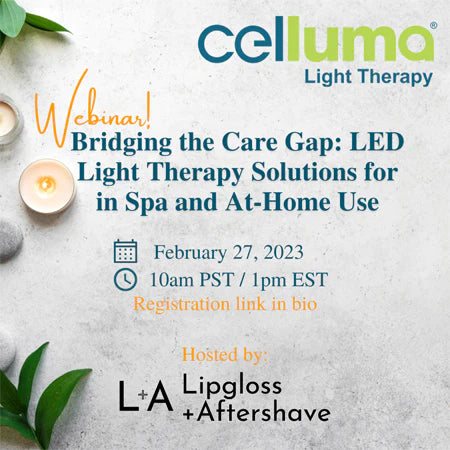 If you missed the webinar: Bridging the Care Gap: LED Light Therapy Solutions for in Spa and At-Home Use - hosted by Lipgloss & Aftershave with Barry and Jenni. 
Deepen your knowledge of light therapy for improved skin, hair, and wellness outcomes. We'll discuss integrating LED into your practice as well as how to benefit beyond the treatment room with revenue generating Celluma Resale, Rental and Affiliate Programs.
Help your clients bridge the care gap between appointments and get amazing results! 
Watch a Replay for the next 7 days:
https://us02web.zoom.us/rec/share/DBPZJPSs7t2owk13L00Ka9GHByg42Wwn0gt-FSHWbigEZC4BIhEO_ooZ9pqeEtHO.1bwDs-aJSOKxC5YI
Look at your clients and your business THRIVE with Celluma Light Therapy! 
After that, it will be available in 30 days under the Education Tab of the L+A Mobile App. Download the mobile app: https://itunes.apple.com/app/id1498894415
Learn More about the complete Celluma Collection
or