Putting Your Best Face Forward: Enjoy a Signature LED Light Therapy Facial
June 12, 2023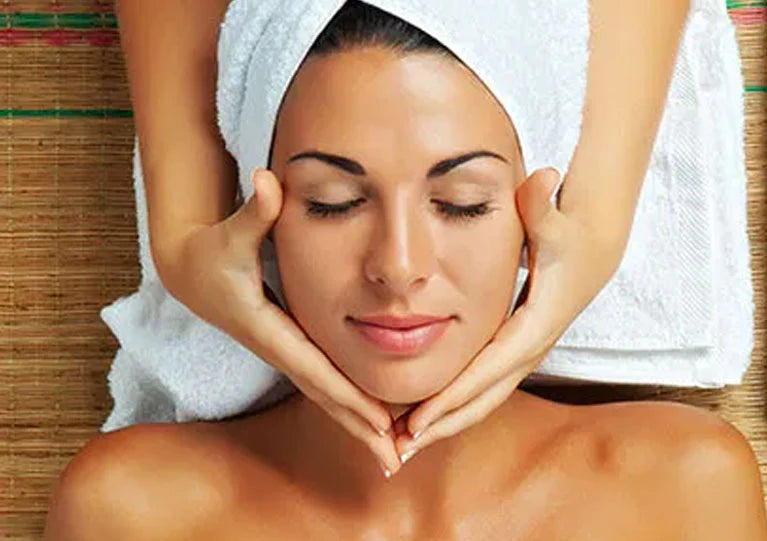 Whether you are a clinician looking for a new addition to freshen up your signature or bespoke facial, or an at-home user looking to maintain results in between treatments, LED light therapy can help you achieve healthier, vitalized skin. But it's important to do your homework and purchase an LED light therapy device that will meet your expectations and needs.
If you are an esthetician, you know your clients come to you with an expectation that you can help them address their skin health issues and can give them healthy, glowing skin so they can put their best face forward to the rest of the world. If you have wanted to incorporate LED light therapy into a facial protocol but weren't sure just how to do it, Celluma LED Light Therapy is here to help!
If you are an at-home user with acne breakouts or you're dealing the fine lines and wrinkles that come with aging skin, Celluma LED light therapy is here to help you too!
Choosing the Best LED Light Therapy Device
The first step is to purchase a Celluma PRO or a Celluma SKIN if you are a licensed professional. Unmatched in performance, power and affordability, the 3-in-1 Celluma PRO effectively treats acne, wrinkles and aging skin, as well as pain conditions with a single device. Use as a stand-alone or add-on modality, the award-winning and FDA-cleared Celluma PRO is hands-free, portable, space-saving and results-driven. 
The Celluma SKIN is exactly the same as the Celluma PRO with the exception that it has no pain program and therefore is slightly less expensive.
If you are an at-home user, there are several devices you can choose from to meet your needs, depending on the type of condition you are looking to treat. The Celluma SERIES of LED light therapy devices includes single-mode options for only treating acne or only treating general pain conditions, as well as 2-in-1 and 3-in-1 options to treat multiple issues. Again, do your homework and make sure the LED light therapy device you spend your hard-earned money on will meet your treatment expectations. There are a lot of poorly designed LED light therapy devices on the market that do not follow the science and make a lot of promises they aren't built to deliver on.  So, make sure you choose a device that is FDA-cleared and support by robust science. You can read more about why that's important and how to choose the right LED light therapy device here.
And you can shop all 14 of the Celluma LED Light Therapy devices here.
Once you have purchased your professional LED light therapy device, and if you are a professional skin care therapist then you can begin to design your signature facial.  Keep it interesting for your patients and clients by customizing a facial with the skin care product lines you already use in your practice.  You can also adjust it seasonally by incorporating certain products based on the time of year (i.e., pumpkin-based products for Fall, cranberry for Winter, hibiscus for Spring, and citrus for Summer) and special holidays such as Mother's Day and Father's Day.
Acne, Wrinkles or Inflammation?
LED light therapy can be benefit most skin conditions.  But let's look at three common skin conditions to learn more about how LED light therapy can help.
Blue Light for Acne Treatment
If you suffer from facial acne, it's likely you've heard of LED light therapy, or blue light therapy as a possible solution to your acne pimple woes. LED blue light therapy is a proven acne treatment for people who have tried other acne treatments, but still aren't seeing the results they want.
LED light therapy used to only be available at a dermatologist's or esthetician's office, but with the advent of affordable, effective, at-home LED light therapy device design, blue light for acne is becoming a household treatment that's non-toxic, non-invasive, and proven effective.
How it Works
LED light therapy kills the acne-causing bacteria at the source, deep beneath the skin's surface. As people around the globe are searching for more natural, chemical-free alternatives to harsh traditional solutions, LED light therapy, particularly blue light treatments, fits the bill. Blue light, especially in combination with red light therapy, emits specific, clinically proven wavelengths of light energy to trigger an all-natural effect in human tissue, killing acne-causing bacteria, decreasing inflammation, and improving skin tone, texture, and clarity from the inside out.
Blue and red LED light light-therapy is widely used as an effective option for the treatment of mild to moderate inflammatory acne vulgaris. One study concluded that "…blue light and red light may act synergistically in improving acne by combining antibacterial and anti-inflammatory action, rendering phototherapy with blue and/or red light an effective and safe treatment for acne vulgaris.₁"
Celluma blue light therapy for acne treatment goes above and beyond to achieve better and faster results. Unlike other LED light therapy devices available on the market, Celluma is flexible and conforms closely to the treatment area for optimal efficacy.
Because of Celluma's unique ability to mold to the treatment area to improve cellular performance on a microscopic level, skin cells can absorb even more light energy, speeding-up the acne bacteria elimination and skin healing process. Because of the ability to place the device close to the skin, Celluma outperforms many even more expensive devices that cannot mold closely to the treatment area.
Celluma's blue wavelengths kill the bacteria that causes breakouts, while reducing the inflammation, pimples, and redness associated with acne. A reduction in lesions and overall improvement in skin appearance is often seen in only a matter of weeks. Of course, outcomes vary depending on severity of the acne condition and compliance to recommended acne protocols. Seeking advice from a skin care professional is always recommended.
Treat Aging Skin with LED Light Therapy
Now that we have looked at how LED light therapy can combat acne and the inflammation that goes with it, let's look at how LED light therapy can treat aging skin, fine lines, and wrinkles.
When it comes to aging, a significant factor that leads to wrinkles and fine lines on the face, and joint pain in the body, is due to inadequate collagen levels, inflammation and reduced circulation. Collagen is the main structural protein found in your skin and other connective tissue. Collagen literally holds our bodies together.
Importance of Collagen
Increased fibroblast proliferation is just one benefit of LED light therapy. Fibroblasts make collagen fibers, so it stands to reason that the more, and healthier, fibroblasts we have in the skin, the more and better collagen fibers are made. And as we all know, collagen synthesis and maintenance is the bedrock of anti-aging. Collagen is considered a key to longevity.
Healthy collagen levels are what give us a glowing complexion, firm skin, strong nails, dense bones, and healthy hair. It is also essential in keeping muscles, joints, and tendons in healthy working order. Simply put, the more our bodies produce collagen, the better we'll look and feel as we age and attempt to delay tissue and cell degeneration.
Signs of Aging
Fibroblast cells are responsible for producing collagen and elastin, the two most common proteins in connective tissue. However, as we age, our fibroblast cells become compromised resulting in lower levels of these proteins. We might start noticing decreased elasticity in our skin, wrinkles, and our joints may not move as freely as they used to. This is because lower levels of collagen lead to breakdowns in cartilage which can cause inflammation, soreness, stiffness, arthritis, and prolonged recovery time after physical activity. Other common signs of aging can include:
Skin and tissue deterioration
Melasma
Arthritis
Inflammation
Chronic joint and muscle pain
Keratosis
Pain
If you're experiencing one or more of these signs, it could be an indicator your collagen levels are deficient.
Also Read: The Next Big Thing in Aging
Proven by Research
Now that we've established a base understanding of why collagen is essential as we age, let's look at the most groundbreaking and natural way to effectively generate more collagen in your body using the anti-aging effect of LED light therapy.
Research has shown that the red and near-infrared wavelengths utilized in the Celluma SERIES of LED light therapy devices combat the signs of aging. These specific wavelengths of light energy are clinically verified to enhance your body's natural ability to generate collagen and elastin by activating the fibroblast cells. These wavelengths also reduce inflammation and increase micro-circulation to further benefit skin, hair and pain conditions.
The Celluma LED Light Therapy Difference
Uniform delivery of the light energy is crucial to successful energy absorption by the cells. For this reason, we designed each of our Celluma products to conform closely to the area of treatment resulting in the unmatched ability to deliver the optimal amount of restorative light energy in each therapy session.
Celluma products stand in stark contrast to the traditional LED light therapy devices which are flat and rigid and cannot contour to the body, dramatically reducing the ability of cells to absorb the optimum amount of light energy and thereby effectiveness. Bodies are not flat; therefore, it makes sense that your LED light therapy device should contour closely to the area of treatment.
Products such as our Celluma PRO can be formed into a C-shape to treat wrinkles and fine lines on the face while you lie comfortably on your back. Or you can shape it to wrap easily around any body part including hands, feet, or joints to combat the effects of aging.
The following is a basic facial protocol you can adapt to the needs of your specific clients and use with other modalities such as mirconeedling, peels, or microdermabrasion to give you clients the healthy skin they are looking for.
Illuminating Vitality Protocol
If you are a skin care professional, your clients will love how relaxing this facial is, as well as the amazing results their skin will experience in just 30 minutes of LED light therapy.
Step 1
First, make sure you review all LED light therapy contraindications and precautions with the client before beginning the LED facial.
Step 2
Next, cleanse with a suitable skin care product of your choice depending on the client's skin type and the condition they want treated.
Step 3
Exfoliate the skin.
Step 4
Perform extractions, if necessary..
Step 5
Tone the skin, if desired.
Step 6
Apply Celluma LED Light Therapy for 30 minutes.
If treating acne, choose the Acne Program. This program emits blue light to kill acne bacteria and red light to reduce inflammation, increase circulation and promote tissue repair.
If you are treating other skin conditions such as fine lines or wrinkles, choose the Wrinkles/Red Light Program. This program emits mostly red light to promote collagen and elastin production to effectively treat a variety of skin conditions, including aging skin issues.
Step 7
Follow the LED light therapy session with skin care products of your choice depending on the condition being addressed and the severity of the concern. This may include a suitable serum and/or mask.
Step 8
Apply suitable moisturizer to the skin.
Step 9
And finally, end your signature facial with an appropriate SPF sunscreen to protect the skin.
Our face is often what makes the first impression to the those we meet. Whether you enjoy a signature facial at your favorite clinic or treat your face to some much-needed pampering at home, LED light therapy, in combination with your favorite skin care routine, can improve the tone and texture of your skin and give you that glow you've always wanted.
References:
British Journal of Dermatology 2000; 142: 973 +/- 978.
Phototherapy with blue (415 nm) and red (660 nm) light in the treatment of acne vulgaris
P.PAPAGEORGIOU, A.KATSAMBAS* AND A.CHU
Unit of Dermatology, Imperial College of Science, Technology and Medicine, Hammersmith Hospital, DuCane Road, London W12 0NN, U.K. Adreas Sygros Hospital, Athens, Greece