Stimulate Hair Growth at Home
June 12, 2023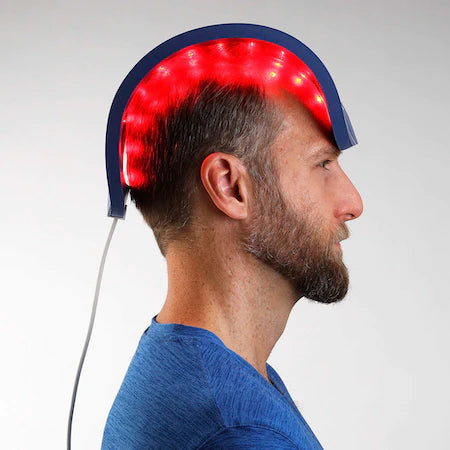 If you are one of the 35 million men and 21 million women suffering from some form of hair loss, then you know the options for treatment are limited to supplements and shampoos on the somewhat inexpensive end of the spectrum to expensive and time-consuming surgical treatments on the other end.
Thanks in part to COVID related hair loss, the topic of thinning hair has become a lot more mainstream over the last couple of years. Both men and women appear to be less self-conscious about openly discussing this common concern which can affect self-esteem and confidence.
And unfortunately, hair loss in women is largely ignored! It's much more common to see hair growth treatment options for men (remember those Hair Club for Men commercials?) than women, who were basically relegated to thickening shampoos and collagen supplements.
Hair Loss Impacts Men & Women
Whether male or female, thinning hair can impact not only someone's physical appearance but their self-esteem and mental health as well. It can also be an indication that something is not quite right with your health. As our bodies produce less collagen in our latter years, likewise, hair quality tends to decrease with age. However, there are other factors that can contribute to hair loss.
Causes of Hair Loss
Common causes of thinning hair include nutritional deficiencies, poor lifestyle choices, digestive system diseases, side effects for certain medications, hormonal changes, genetics, damaging hair styles, environmental factors, scalp and/or skin disorders, stress, or other medical conditions. And while there are some quick fixes for thinning hair such as hair extensions, wigs, chemical treatments and topicals, these options can prove to be pricey, time consuming and can sometimes lead to even more hair damage.
Basically, when hair loss happens, you do lose the hair but what you don't lose is the actual hair follicle which is what helps keep the hair attached to the scalp. Each hair follicle contains a hair bulb at its base which contain the papilla and the matrix and this is where your hair begins the growth process.
Our hair is made up of a protein called keratin which makes up the hair shaft. When all of these pieces of the hair puzzle are not functioning optimally, ideal hair growth just isn't in an environment where it can thrive.
Stages of Hair Growth
Here's a quick tutorial on the three basic stages of hair growth. The first stage is what is referred to as the Anagen stage which is the active growing stage. This stage can last from 2-7 years. The second stage is known as the Catagen stage or the transition phase of hair growth. Approximately 3% of all hairs are in this stage at any given moment.  And the third stage is known as the Telogen or resting phase. Normally 6% to 8% of all hairs are in this stage, which tends to last about 100 days.
Red Light Therapy for Hair Growth
Red light therapy, also known as low-level light therapy (LLLT) or photobiomodulation, is a proven, effective and safe treatment for hair loss, aging skin, and a variety of pain conditions. It enhances hair growth by targeting and boosting the biochemical processes in the scalp and hair follicle. It is thought that through photobiomodulation, red light energy emitted by low-level light therapy (LLLT) devices may encourage hair growth by accelerating keratinocyte and fibroblast mitosis, inhibiting nitric oxide and reducing inflammation. (1-4)
In-Office or At-Home Treatments
Red light therapy for hair growth can be experienced in a clinical setting, or you can purchase an at-home red light therapy device specifically designed and FDA-cleared to prevent and restore thinning hair. The convenience of this option allows users to complete treatment in the convenience of their own home without repeated office visits. It is also non-invasive, non-toxic, and painless.
What the Research Says about Red Light Therapy for Hair Growth
Several studies have examined the use of red light therapy for hair growth, including how it impacts the scalp and hair follicles. A paper published in February 2014 titled, Low-level Light Therapy (LLLT) for Treatment of Hair Loss, said "LLLT was discovered serendipitously in the 1960s when mice irradiated with a low-fluence red laser grew hair. Since that time LLLT has demonstrated promise in conditions from wound healing to stroke recovery, from treatment of musculoskeletal pain to prevention of mucositis. Animal and human data have slowly accumulated supporting LLLT for hair growth (Table 1). LLLT appears to improve a variety of non-scarring alopecias—AGA, AA, and chemotherapy-induced alopecia. Based on the studies demonstrating LLLT's effects on promoting graft survival, it may be further suggested to have a potential to be used during the immediate period of post-hair transplant surgery to facilitate the healing process and enhance viability and earlier growth of the grafts [60,61]. While mechanisms are still emerging, LLLT may increase anagen hairs through release of NO from CCO by photodissociation and LLLT may reduce inflammation in AA. However, more studies are needed to optimize treatment parameters and determine long-term efficacy as well as safety of emerging LLLT technologies. Most studies investigating effects of LLLT on hair growth have used wavelengths that range from 635 to 650 nm, but as of today no study has compared the effect of near-infrared wavelengths such as 810 nm, which have deeper penetrating capacities, to red light. Moreover, further studies are required to compare efficacy of different light sources (continuous vs. pulsed) and methods of light delivery (laser vs. LED)."
More Research about Red Light Therapy for Hair Growth
In a study published in September 2021 titled, "Treatment options for androgenetic alopecia: Efficacy, side effects, compliance, financial considerations, and ethics," researchers found that, "overall, literature has suggested light therapy to be a safe treatment modality for AGA in both male and female patients when used independently or in combination with topical/oral therapies. Light therapy has an excellent side effect profile, and there are no contraindications for use, although caution may be taken when administering in patients with dysplastic lesions on the scalp."
"Light therapy is ideal for patients who prefer non-invasive options, or for those who lack a flexible schedule to come into the office for regular treatments. These devices can be self-administered at home and controlled by a mobile application to also record daily compliance."
In one review article, Efficacy of non-surgical treatments for androgenetic alopecia: a systematic review and network meta-analysis (© 2018 European Academy of Dermatology and Venereology), A.K. Gupta, et al, states that, "Relative effects show LLLT as the superior treatment" when comparing red light therapy to the six most common non-surgical treatment options for treating androgenetic alopecia in both men and women including dutasteride 0.5 mg, finasteride, 1 mg, minoxidil 2%, minoxidil 5% and platelet-rich plasma (PRP). 
Credentials Matter
Red light therapy devices have been cleared by the FDA for the treatment of male and female pattern hair loss. It helps to proliferate hair follicle size and prevent catagen hair development (the end of the active growth of a hair). Substantial research has supported light therapy's ability to regrow hair lost due to androgenetic alopecia with minimal degrees of side effects and adverse events.
Red light therapy hair devices can be an effective stand-alone therapy or adjunctive therapy to medication and topical prescriptions for optimal hair regrowth. Dermatologists and medical practitioners specializing in hair restoration can ensure proper diagnosis and treatment recommendations. Individuals should consult with their physician for a correct diagnosis and to determine if red light therapy is suitable for their category of hair loss.
At-Home Red Light Therapy Options to Stimulate Hair Growth
Those suffering from thinning hair can now take advantage of an affordable at-home hair growth red light therapy device that also addresses the fine lines and wrinkles that come with aging skin, as well as general pain conditions — all in one device!
The Celluma RESTORE red light therapy device is multifunctional and can treat thinning hair,  rejuvenate aging skin to lessen the appearance of fine lines and wrinkles, alleviate aches and pains, prevent further hair loss, and counter male and female pattern balding  due to androgenetic alopecia. And it's also non-toxic, non-invasive, and pain free.
The Celluma RESTORE Red Light Therapy for Hair Growth is FDA-cleared to Treat:
Androgenetic Alopecia and to promote hair growth in males who have Norwood-Hamilton classifications of IIa–V patterns of hair loss and to treat Androgenetic Alopecia and promote hair growth in females who have Ludwig-Savin Scale I-1 to I-4, II-1, II-2 or frontal patterns of hair loss; both with Fitzpatrick Skin Types I–IV.
Aging skin (wrinkles)
Muscle, joint and arthritic pain, muscle tension and spasm, and increase micro-circulation
The Celluma RESTORE measures 16" x 8" overall with a treatment area of 14" x 6".
Watch the Celluma RESTORE Positioning Tutorial:
Protocol for Stimulating Hair Growth
To obtain the best results, use the Celluma RESTORE red light therapy device every other day for at least 16 weeks.
Each Treatment: 30 min
Before use, ensure that your hair and scalp are clean.
Before use, ensure that your hair and scalp are completely dry.
Separate the hair follicles before illumination to better expose the parts of the scalp suffering from hair loss.
Before and After Images Using Celluma RESTORE
Take a look at some Celluma RESTORE results from real people who have used the Celluma RESTORE for hair growth. In just 30 minutes every other day, these men and women saw tremendous improvements. The Celluma RESTORE's patented shape-taking properties allow it to be positioned closely over the head and scalp for maximum effectiveness.
Celluma RESTORE Patient Testimonials
In an anonymous survey of patient's using the Celluma RESTORE for hair restoration, 9 out of 10 reported positive hair improvement results and would recommend the device to their friends. Here's a sample of survey respondent's comments:
"It's easy to use and you note the change in less than 15 days".
"My hair looks more thick and I have more of them. I love Celluma, this is my second one. It's amazing that the Celluma Restore has 2 more settings. I definitely see results".
"I saw actual results. I started using Celluma Restore after I lost 40% of my hair from having covid. I couldn't control the hair from falling. I tried, Nioxin shampoos, Viviscal supplements, collagen powder, and I even wore a LED hat that my husband uses for his hair loss. After wearing that hat 3-4 days a week, and for 3 weeks, I didn't see much of a difference and my hair still continued falling out. I was so discouraged from everything. Then I made the decision to order the Celluma Restore. I made this decision because when my husband was initially losing his hair, I put the Celluma Pro on him and it worked wonders. So, I was very excited when the company came out with an actual Celluma device that was designed specifically for the hair. Immediately after the first use I noticed the next day my hair loss was a little less, after the second use it was a little less again and after the third time using it, the hair loss stopped dead in It's track! I was stunned. I continued to use it 3 days a week for several months. Six months later my hair has been almost fully restored. Definitely much better than other devices I had tried".
"Inflammation is down, I have a lot of regrowth. I use it on my hair for hair loss 2x per day. I also use it for anti-aging on my face 3-4x a week."
"I had a lot of hair loss one month after having covid. I noticed my hair stop falling out at 2 1/2 weeks using the Celluma Restore. It's been 5 months now and my hair looks and feels full. I no longer feel self- conscious that my scalp is exposed. Previously, I had only tried shampoos that were recommended but did not work."
"My hair is shinier."
"I use 2x a day every day for frontal fibrosing alopecia. Have regrowth, much less redness, inflammation and itching/pain."
"The esthetician who recommended Celluma to me used it for 6 months before she noticed an appreciable improvement in her hair growth. I have only been using it since mid-June, 3 months, so I think your survey is premature for me to answer these questions well".
Benefits Beyond Hair Growth
As mentioned previously, the Celluma RESTORE can also be used to treat aging skin and general pain conditions so it's like having three red light therapy devices in one! Again, because of its shape-taking ability, the RESTORE can be wrapped around joints to treat arthritis or placed over the face to treat fine lines and wrinkles. It really is the perfect device for mature individuals who want to look and feel their best.
*Disclaimer: LED Light Therapy is safe and shown clinically to be effective for a range of indications, however individual results may vary, and there is no assurance of a specific benefit for any such indications.
References:
Lubart R, Eichler M, Lavi R, Friedman H, Shainberg A. Low-energy laser irradiation promotes cellular redox activity. Photomed Laser Surg 2005; 23: 3–9.
Eells JT, Wong-Riley MTT, VerHoeve J et al. Mitochondrial signal transduction in accelerated wound and retinal healing by near-infrared light therapy. Mitochondrion 2004; 4: 559–567.
Sakurai Y, Yamaguchi M, Abiko Y. Inhibitory effect of low-level laser irradiation on LPS-stimulated prostaglandin E2 production and cyclooxygenase-2 in human gingival fibroblasts. Eur J Oral Sci 2000; 108: 29–34.
Darwin E, Heyes A, Hirt PA, Wikramanayake TC, Jimenez JJ. Low-level laser therapy for the treatment of androgenic alopecia: a review. Lasers Med Sci 2017; 33: 425–434.